Finally, it's good news for all the students who are waiting for Nios admission. Nios Admission has started online for the 10th and 12th class. Admission is available in online mode at Nios registered website. Students looking for Nios Admission Center near at home.
But now you don't worry about that. As the world growing rapidly in digital world. So, you can take your Nios Admission online. You can also take your admission from institutions like Toppers Mantra Education Center online through https://toppersmantra.com.
Admission has started for the entire candidate who wants to apply in 10th and 12th class.
Nios Admission Center:
Firstly, we do offer admission at our destination and online mode. We provide all the facilities regarding the study of the admission procedure and academics.
Some facility of Nios Admission procedure:
Admission Registration
Tutor Marked Assignment (TMA)
 Nios Practical
 Examination Preparation
Id card
Nios Hall Ticket/Admit card
Nios Admission is offered for those students who want to continue their study. For instance, students can also apply for their admission even if they left their academic study.
However, National Institute of Open Learning (NIOS) provides admission only for academics of 10th and 12th class. As we know it's the largest Open Board, in the same way it has a unique identity among all the Boards.
Nios provides study through at home. Students have to study at home and no need to go school regularly. You can sometimes visit your Nios Study Centers which are shown at your Nios Id Card.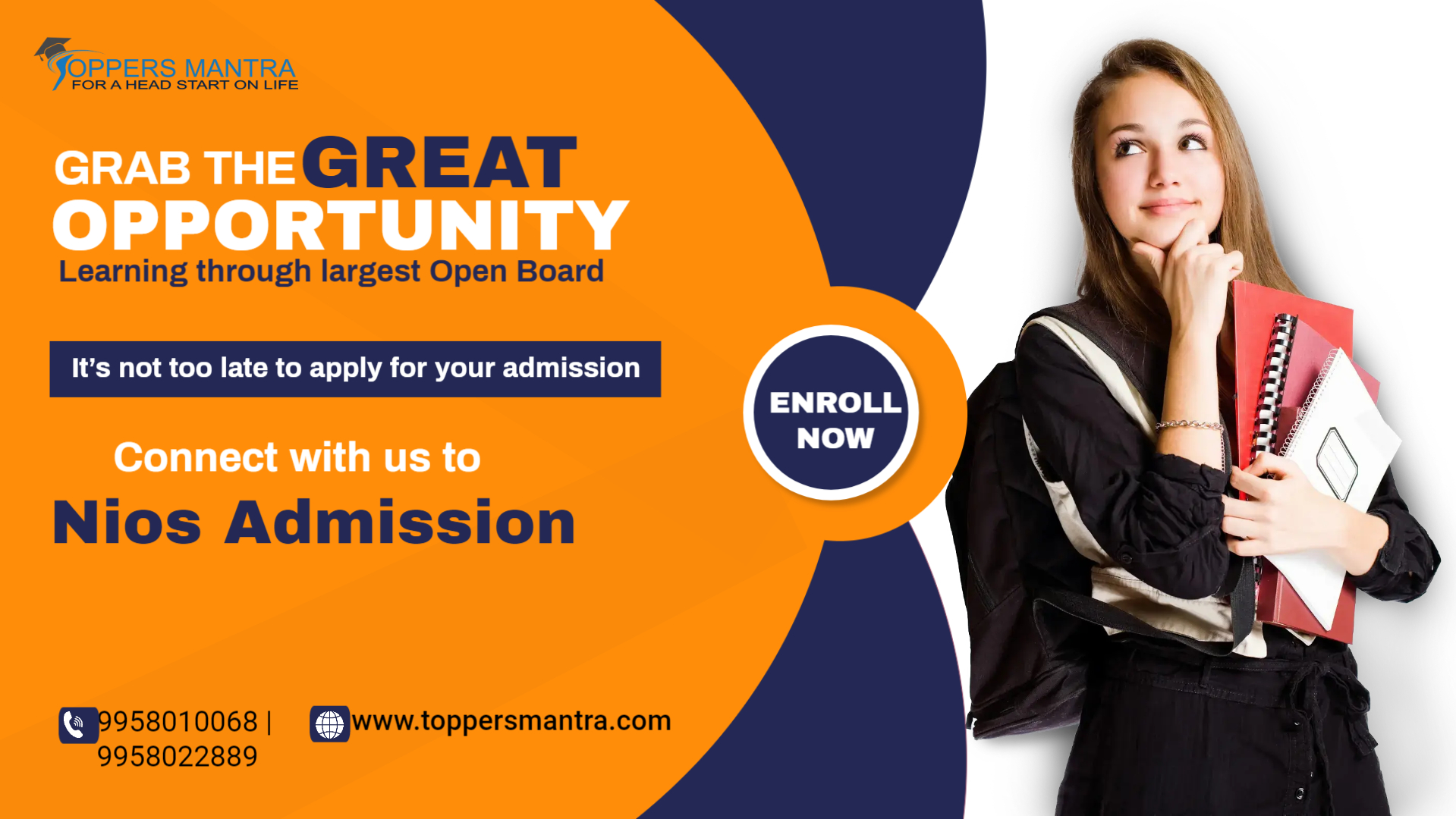 Nios Study Centers:
At the time of Nios Admission students have an offer to choose their Nios Study Center nearby.
Nios Study Center plays an important role in the field of Nios. Secondly, Tutor Marked Assignment (TMA) is submitted at the study centers. You can also submit your Assignment directly at the Regional Center (RC) or the Nios Headquarter.
You will get your mark sheet after the passing in Nios at the study center. Books are also available at the study center.
In this way Study Centers are important for the students while they take admission through Nios Board.
Nios 10th Admission:
If you are looking for admission in the Secondary Class (10th) then you must have the last qualification certificate.
Admission is available at Toppers Mantra Education Center https://toppersmantra.com. You can go for your admission with Nios. Contact 9958010068 | 9958022889 for your admission. After that you have to submit your application form properly at Toppers Mantra.
Nios Admission for 10th class through Open Board is for those who left their study in previous class. Students can also apply for Nios admission if they didn't go to school.
Nios 10th class Eligibility Criteria:
Students must be at the complete age of 14.
Candidate have the last qualification Certificate.
Students must have a recent passport size photo.
Signature
Students must have address proof of residence.
E-Mail Id
Students who didn't go to the school or don't have a last qualification certificate of education, they can also enroll for their Nios 10th admission. They can enroll for their admission with the two government documents like Aadhar Card, Pan Card, Birth Certificate, and government identity.
In Secondary class (10th) you have an option to choose subjects according to your choice. Above all, students have the facility to choose their subjects frequently.
In Nios, if students are weak in study, he/she can also get pass with their efforts. Above all, total marks depend on Assignment, Practical and Theory. Toppers Mantra Education Center helps you with the study, making of Assignment properly, about the Practicals and all the information regarding Nios Admission procedure.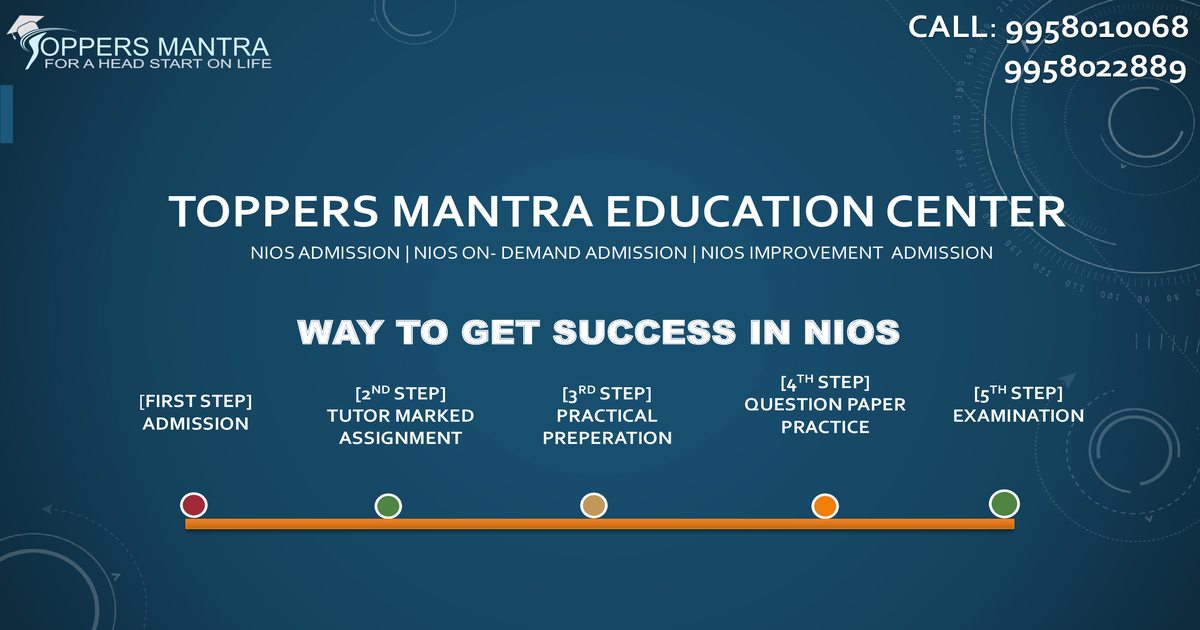 Nios 12th Admission:
Admission to the Senior Secondary (12th) class you must have passed Secondary (10th) class from a recognized Board in India or the Foreign.
Nios Admission for 12th class online is available at Toppers Mantra Education Center https://toppersmantra.com. You can continue with NIOS if you are preparing for other courses.
Students from ITI also apply for their 12th Nios Admission. After ITI you don't need to apply for 5 mandatory subjects. You can option only 2 subjects one is language or 2nd is the main subject. Finally good news for ITI students.
Nios 12th class Eligibility Criteria:
You must complete 10th from any Recognized Board
You must complete age of 15
 Your Corresponding address
Passport size photo
Valid E-Mail Id
Contact Number
In other words, NIOS BOARD has become the most valuable board among the students. It's the board which makes you eligible for foreign study like other boards like CBSE, ICSCE, etc.
You can apply for your admission for 12th online through Toppers Mantra Education Center at https://toppersmantra.com and call 9958010068 | 9958022889.
Throughout the country you can apply for your online admission. You can fill your Admission Enquiry Form at www.toppersmantra.com.
In 12th class you also have to prepare for Tutor Marked Assignment (TMA) which consists of 20% weightage of theory examination. TMA makes your percentage better and improves your marks too.
You must have to prepare for Practical file and viva in the subjects which are practical.
In other words, Toppers Mantra Education Center is the leading Nios Institutions throughout India. For any query regarding Nios Admission contact us at www.toppersmantra.com and you also make call at 9958022889 | 9958010068.
In conclusion, for your admission call us.
Thanking You
Regards
TOPPERS MANTRA EDUCATION CENTER