We Toppers Mantra Education Center here to say that due to the Covid-19 (Corona virus) all the outgoing examination has been postpone. We know most of the students are waiting for the National Institute of Open Schooling (NIOS) On Demand admission (Odes) for Secondary or Senior Secondary Examination. On Demand is a useful or valuable examination method of NIOS for the failure students of any recognized Board.
At Every year many of the students not able to complete their schooling or board exams. They felt sad and hopeless due to their negative result. But Nios gives them a golden chance to give exams at the next month after the declaration of the result. Students can apply for Nios On-Demand Examination and save their valuable year and go for the further studies.
Nios is a valid government Board which is working under Ministry of Human Resource and Development (MHRD). Nios is valid in all the sectors either it is Government or Private both. If you want to apply in Nios Public or On-Demand examination then you can contact with Reputable institute of Nios TOPPERS MANTRA EDUCATION CENTER which is in the field of education with the deeply detailed of Nios.
Toppers Mantra Education Center is think about your problems and ready to continue work with home where you can take admission online from your home. You just call us and we will clear your all the doubts and make you able to take admission in Nios. Toppers Mantra is a well famous and reputable Nios Center among the students.
You can also apply for the Public Examination 2021 April through Toppers Mantra online from home. All the procedure will apply online and all the threatened will clear on call till lock-down. All the hard copy of study materials will send to your homes after the lock-down. But we will provide you all the online materials like books, Id Card , TMA, Practical, etc.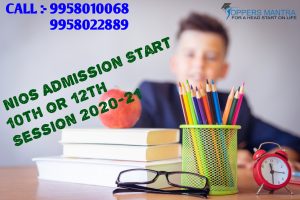 For all other enquiry about Nios you can contact with our official website www.toppersmantra.com and can call us.
THANKING YOU
TOPPERS MANTRA EDUCATION CENTER