Nios Admission Available
All the students, Toppers Mantra Education Center provides Nios Admission for 10th or 12th class throughout the country. India is a country where most of the students are looking to complete their studies.
Nios provides a platform to all those students who want to enroll for their admission in the academic of Secondary (10th) and Senior Secondary (12th) class. Nios is one of the National board systems in India where the largest number of the students enroll for their Nios Admission.
It's a chance for those who left their studies for any reason. They can continue their studies.
Toppers Mantra Education Center provides admission online throughout the country. For the Nios Admission you just have to call Toppers Mantra and we'll clear your doubts and questions. We are sure that we provide all the best guidelines about the Nios Admission for 10th and 12th class.
Nios 10th Admission:
Nios Admission for 10th class is available in Nios through Toppers Mantra. As we know that 10th class is the main and the basic class or the foundation class for the education then we can say that it's important for all the students.
Students have to make Tutor Marked Assignment (TMA) which consists 20% weightage of the Theory Examination. It is important because the marks of assignment will count in the final examination.
After the assignment you have to also prepare Nios Practical in the subject which have practical. Practical is mandatory if it is available in the subjects. After the Nios Admission you have to prepare some these activities.
We all know that 10th is the mandatory class to attempt 12th examination. Without 10th you can't proceed for 12th class.
After the 10th class the Marksheet of 10th or Secondary Class is important for further studies.
In Nios you can directly join for 10th class with the last qualification certificate. It also provides benefits for those students who never go for studies or don't have any last qualification certificate.
10th class Documents Required:
School Leaving Certificate (TC)
Identity Proof
Address Proof
E-Mail Id
Photo
Signature
Contact Number
If learners don't have the last qualification certificate, then they can provide a self-declaration certificate to us for the nios admission in 10th class. It's only for 10th class, after 10th you need a Marksheet for further admission.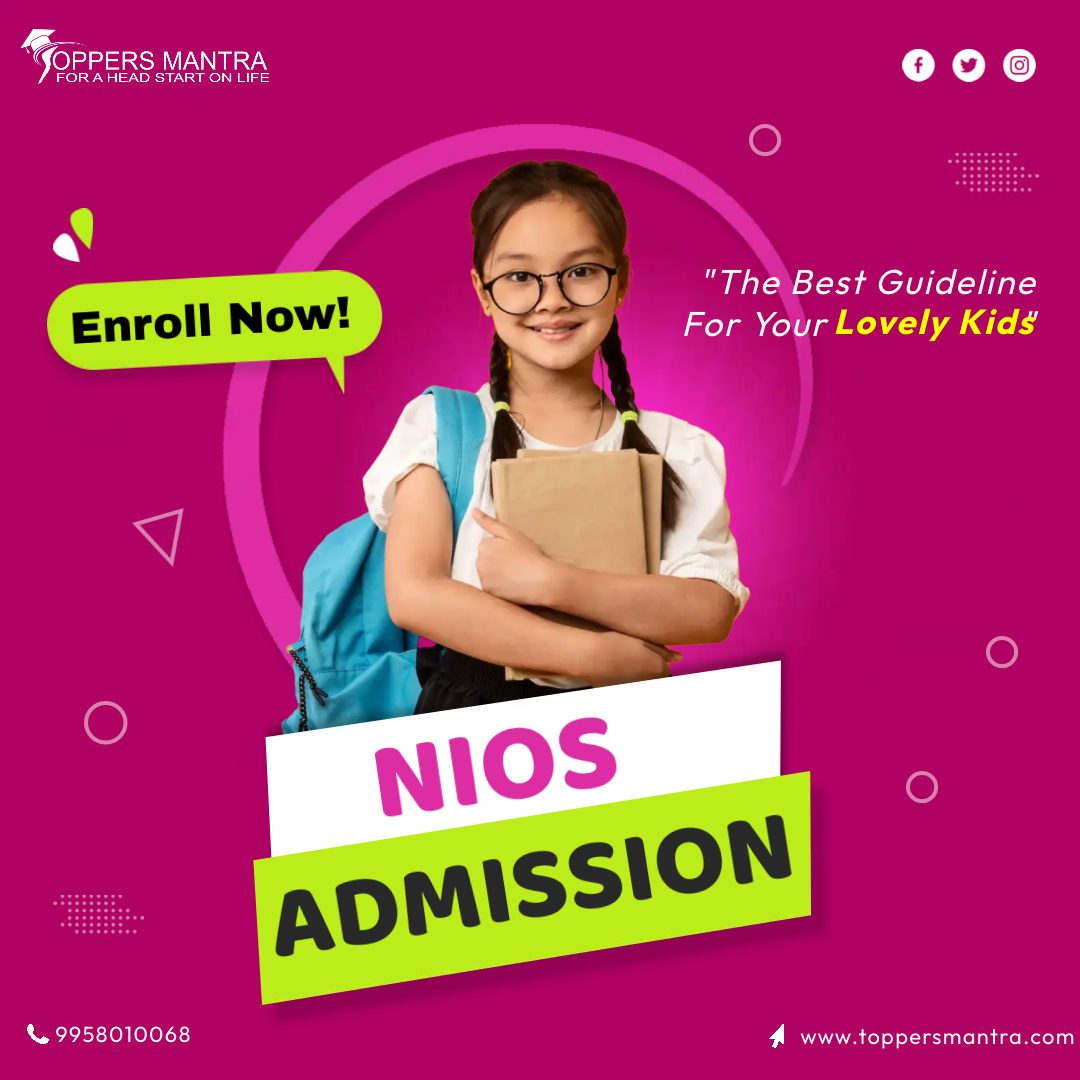 Nios 12th Admission:
Nios 12th admission available through Toppers Mantra Education Center. You can apply for your 12th admission online or you can visit us at our destination.
After the 10th 12th class is also important for further studies or to take admission in college or any course relevant to graduation or any programme.
TMA is also beneficial for Nios 12th class students. Marks of TMA will reflect in the final marksheet. You will get Provisional and Migration Certificate along with the Nios Marksheet.
Nios provides admission through distance where you can study at home or you can do any other activities with education.
Nios is equivalent to other national boards where you can choose your stream according to you (Arts/commerce/Science) in which you want to choose your career.
12th class documents required:
10thMarksheet
Identity Proof
Address Proof
E-Mail Id
Contact Number
Photo
Signature
Nios On-Demand Admission:
On-Demand Admission is another type of admission which is generally provided through Nios for 10th and 12th class.
Nios On-Demand Admission is basically for those students who failed in their previous board. According to me, Nios On-demand is one of the best examinations for the students. Many students do not score well and sometimes they fail and have a compartment in the examination then they have to wait for compartment examination. It's a very long process.
But in Nios students can give examinations in the same month in which they get results and also fill the form for improvement if they want to improve marks in some subjects through Nios Admission.
Students from 10th or 12th class can apply for On-Demand Examination after the failed result.
In this examination Nios will not provide Tutor Marked Assignment (TMA) which is available in the Public Examination. Yes, TMA is also beneficial for Public Examination students.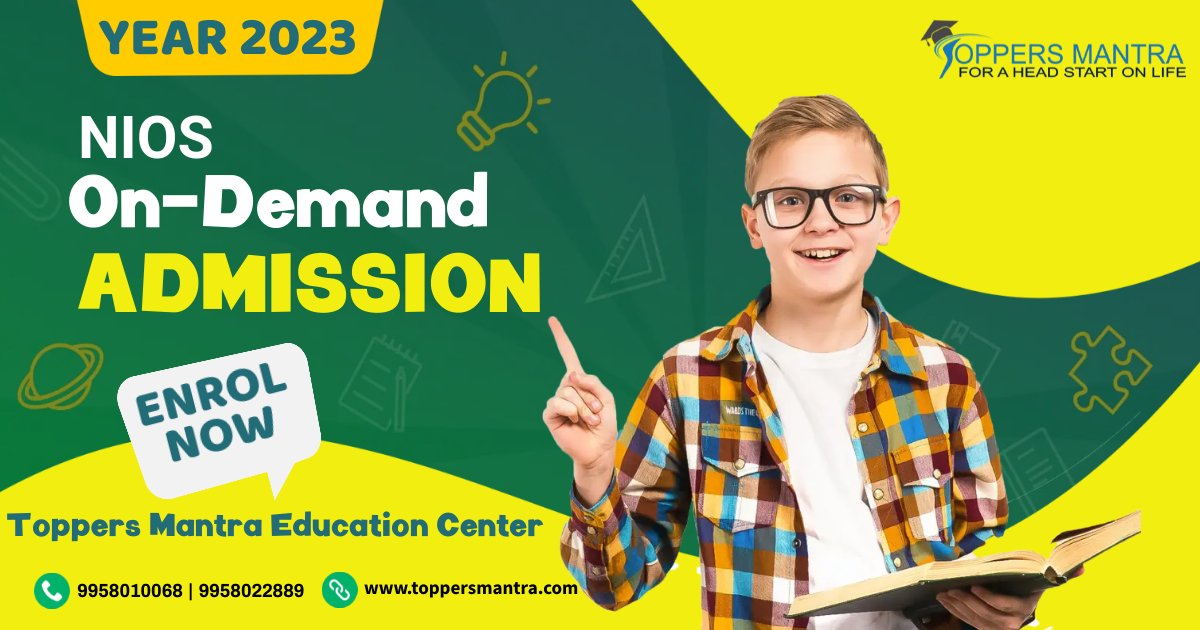 Nios On-Demand Practical:
But in the On-demand Examination Nios provides practical facilities in the practical subjects. Practical is the same as other boards where you have to make a file and do preparation for Viva where you have to write some questions or the activities in the examination.
Practical Examination held after the theory examination. You will get your practical slip in the exam hall of the theory examination after the exam.
On-Demand Admission Documents Required:
Failed Original Marksheet
Identity Proof
Address Proof
Photo
Signature
E-Mail Id
Contact Number
The first thing for the students is that On-Demand Examination is held only in Regional Center, Nios Head Quarter or some Kendriya Vidyalaya in the states.
Students must have to be concerned about the Examination with coordinators or the teachers who know well about On-Demand Examination.
Nios Best Institute:
Toppers Mantra Education Center is one of the best Nios institutes in India which is working globally for the students in term of Nios Admission. Students well know about the Toppers Mantra, we have many of the students from different states.
On the basis of Review or Rating we can say that we work for the student's future or the academic.
We provide all the best guidelines about the Nios Admission or the procedure. We do all the activities regarding the admission procedure of the admission throughout the year.
Nios On-Demand Examination board doesn't provide books to the students but Toppers Mantra provides all the guide books at the time of admission for the study.
We care for all the questions which arise as a student in your mind.
For the admission you can visit our official website https://toppersmantra.com or https://nios10thadmission.com and you can also contact us at 9958010068 | 9958022889. You can easily reach us.
You can also visit our destination at 1153/11, 2nd floor, Govindpuri, Kalkaji, Delhi-110019.
We are also available at Facebook, Twitter, Instagram, LinkedIn, YouTube, Pinterest, Medium and many more social media platforms where you can reach us.
Thanking You
Regards
TOPPERS MANTRA EDUCATION CENTER