Nios Admission West Bengal
Nios Admission West Bengal has started for 10th and 12th class. It's great news for all the candidates of West Bengal who want to enroll for their academic Nios Admission. As per norms most of the students are looking for their admission through the largest Open Board in India.
Now the waiting time has been over for the admission in academic for 10th or 12th class. West Bengal is one of the largest states among all the states of India. Numbers of the students wait for the Nios Admission West Bengal every year.
Through Bengal huge percentage of the students enroll in 10th or 12th class.
You can take your Nios Admission West Bengal online through Toppers Mantra Education Center which is the well-known Nios Admission Center throughout the Country. Toppers Mantra takes care of all the Nios Admission procedure after the admission.
For the admission you may visit our official website https://toppersmantra.com or call us at 9958010068 | 9958022889.
What is Nios?
If we're talking about the Nios which means National Institute of Open Schooling working as the largest Open Board System in India. It's also the reputed board among the all the known Boards in India and other. Nios is working under all the states of India and the main Headquarter is located in Noida sector-62.
In all the states Nios provides Regional Center for the formation of work in the states. They take care of all the activities of operation in the study center and the AI centers of the board.
For Nios Admission West Bengal, Nios Regional Center is in CL 18A, Salt Lake, Sector-2, Near CK Market, Bidhan Nagar, Kolkata, West Bengal, 700091.
Procedure of Nios Admission in Bengal
As technology grows day by day due to this all the procedures of Nios admission become online in which you can easily login for your academic admission.
For the Nios you can call Toppers Mantra Education Center, we will get your admission done properly. We fill your admission form in the correct way and concern all the facts about the admission.
We update you from time to time and also help you study according to the syllabus.
Toppers Mantra provides you beneficial guidelines which mean for your admission. Students from West Bengal also give examinations in their language.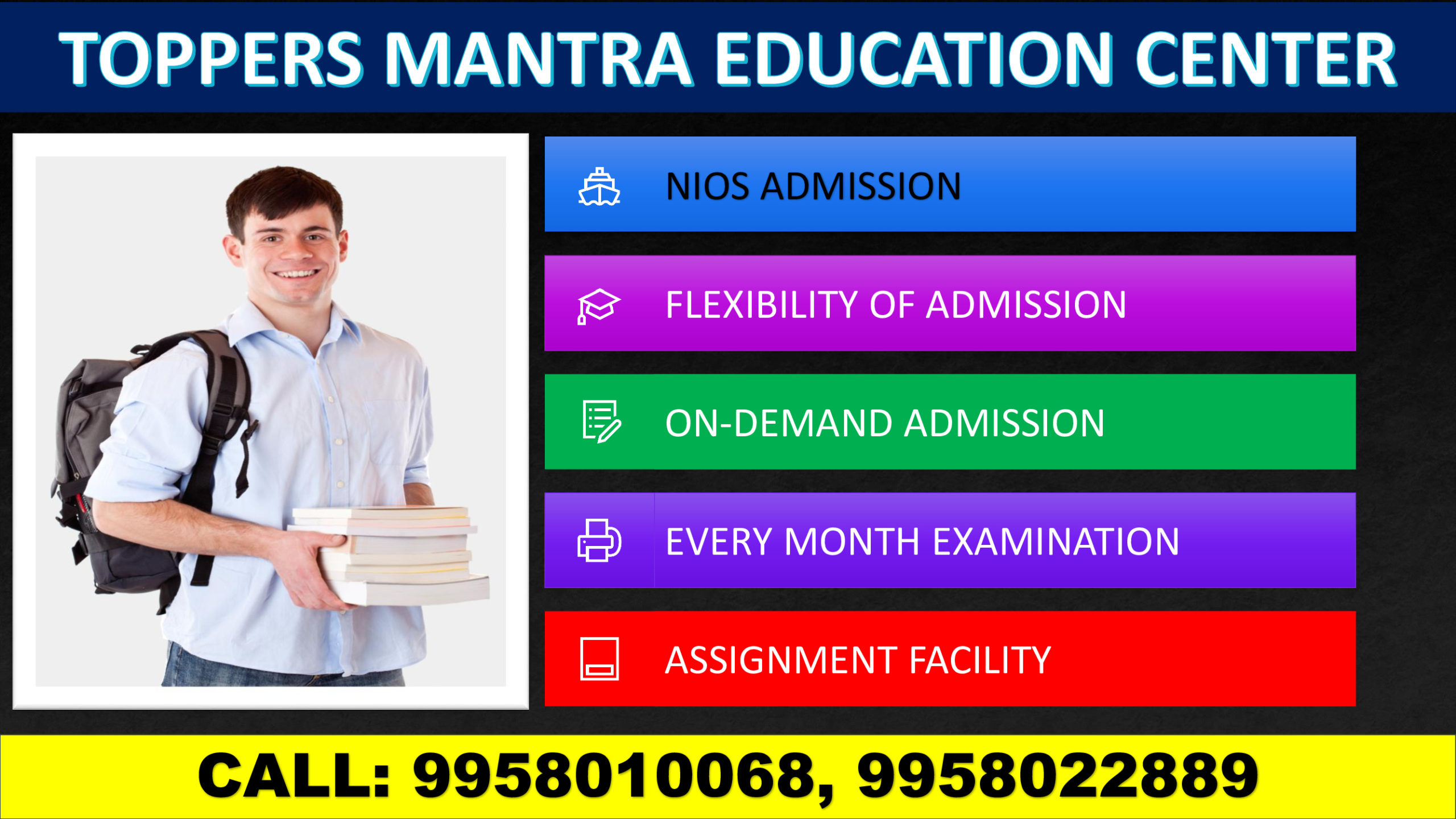 Session of Nios Admission
Nios provides admission twice in the year where you can enroll for your admission for session April-May and October-November. Session of Nios divides into Stream 1 Block 1 and Stream 1 Block 2. Stream 1 Block 1 admission starts from 16th March and lasts until 15th of September. Stream 1 Block 2 admission starts from 16th September and ends on 15th of March.
Nios also have Stream 3 and Stream 4 which we will clear later about that procedure.
In West Bengal you may continue their admission in both of the sessions. Hurry up! take Nios Admission West Bengal online through Toppers Mantra Education Center.
Why do we Choose Nios?
The first question is why we should choose NIOS? The answer is Nios is the board which provides education for academics through homes. You don't need to go to school regularly.
In Nios, Students who left their studies by any reason can continue with Nios and complete their studies. It provides a facility of public examination twice in the year.
Studying is very simple in Nios to learners. All the learners can study online through online materials which are provided by the Board on its official website https://sdmis.nios.ac.in.
You can also follow Toppers Mantra Education Center for more details at https://toppersmantra.com and https://nios10thadmission.com.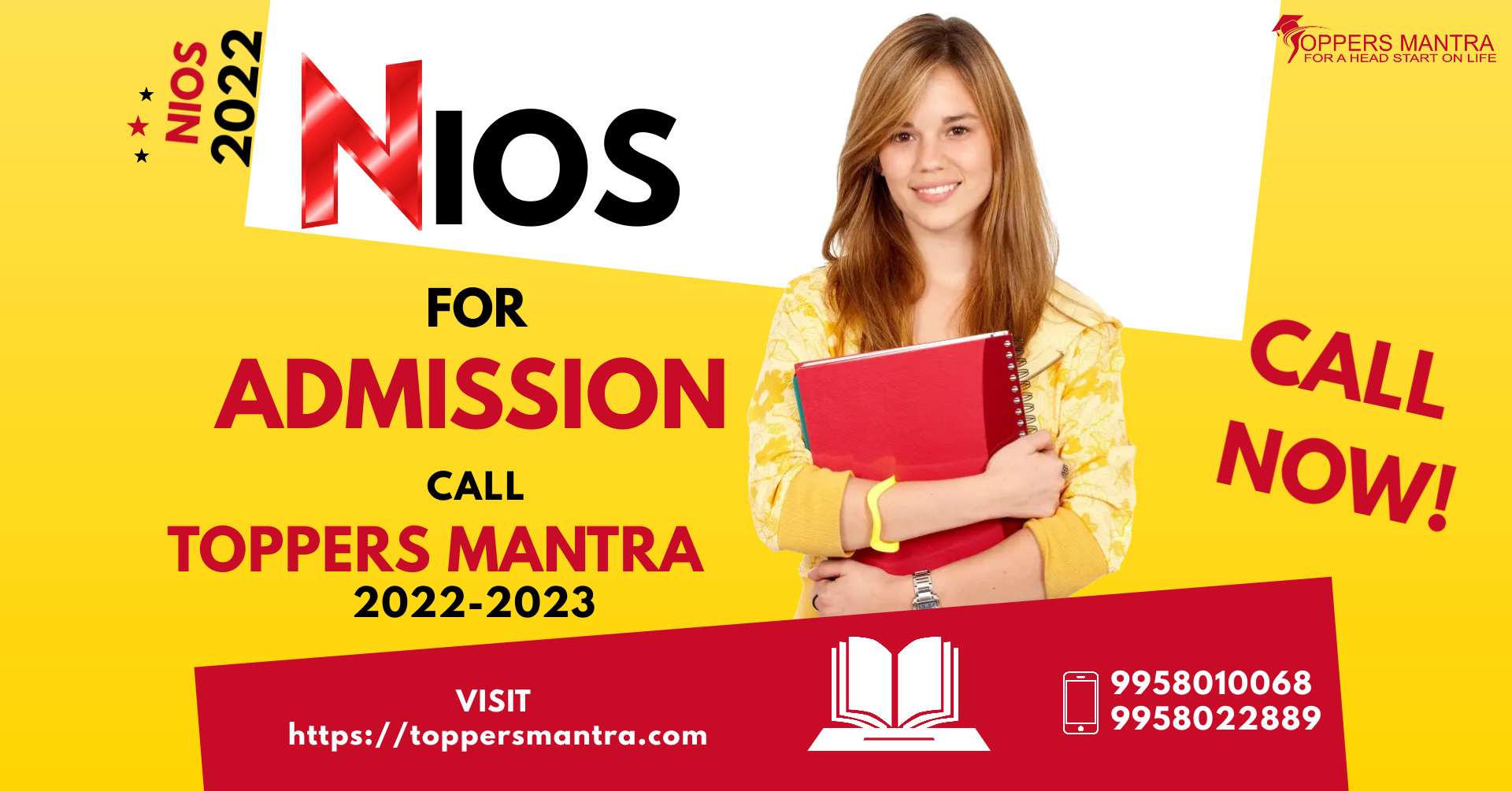 Nios West Bengal Study Center:
Nios West Bengal study center located in every district of Bengal. Students can apply according to their choice. You are free to choose a Nios study center. You're all the procedures of academics done through Toppers Mantra. Before the Covid study center provided classes at center. But after the Covid classes are not available at the center.
Study Center of Nios is also important because your examination center will be choose on the basis of study center. If you have some doubts then you can visit there.
For any query or information you can also call Toppers Mantra. We help you about all the query and information which you want regarding the admission or the study.
You will get your marksheet at the Study Center or you can also submit your assignment there. You can also submit you TMA online at official website of Nios and also call us to submit your Assignment.
Documents Required for Nios Admission:
At the time of Nios Admission most of the students looking for the documents required for the admission. They don't have knowledge about the proper documents for enroll.
Don't worry about the documents required for Nios Admission West Bengal.
Documents required for 10th class:
Nios Admission West Bengal required some basic documents which are easily available. Students who are looking to the admission can follow these documents for admission. Documents list given below!
• Aadhar Card for Identity or any other government identity documents (Pan Card, Ration Card, Birth Certificate, etc).
• Age proof (School Leaving Certificate, Birth Certificate, Pan Card, etc.)
• Address proof (Aadhar Card, Voter id card, water bill, electricity bill, Passbook, ration card, rent agreement etc,).
• Email id
• Contact Number
• Signature
• Passport Size photo
Documents required for 12th class:
For the admission in Senior Secondary you may take some nominal document. These documents are given below!
Nios 12th Documents:
Identity Document (Aadhar Card, Pan Card, Voter Id Card, and any other government identity)
Address Proof (Aadhar Card, Voter Id Card, Rent Agreement, Electricity Bill, or any other government valid address proof)
10th Class Marksheet
12th failed or Compartment Marksheet
Passport Size Photo ( digital also valid for admission)
E-Mail Id
Contact number
Student Signature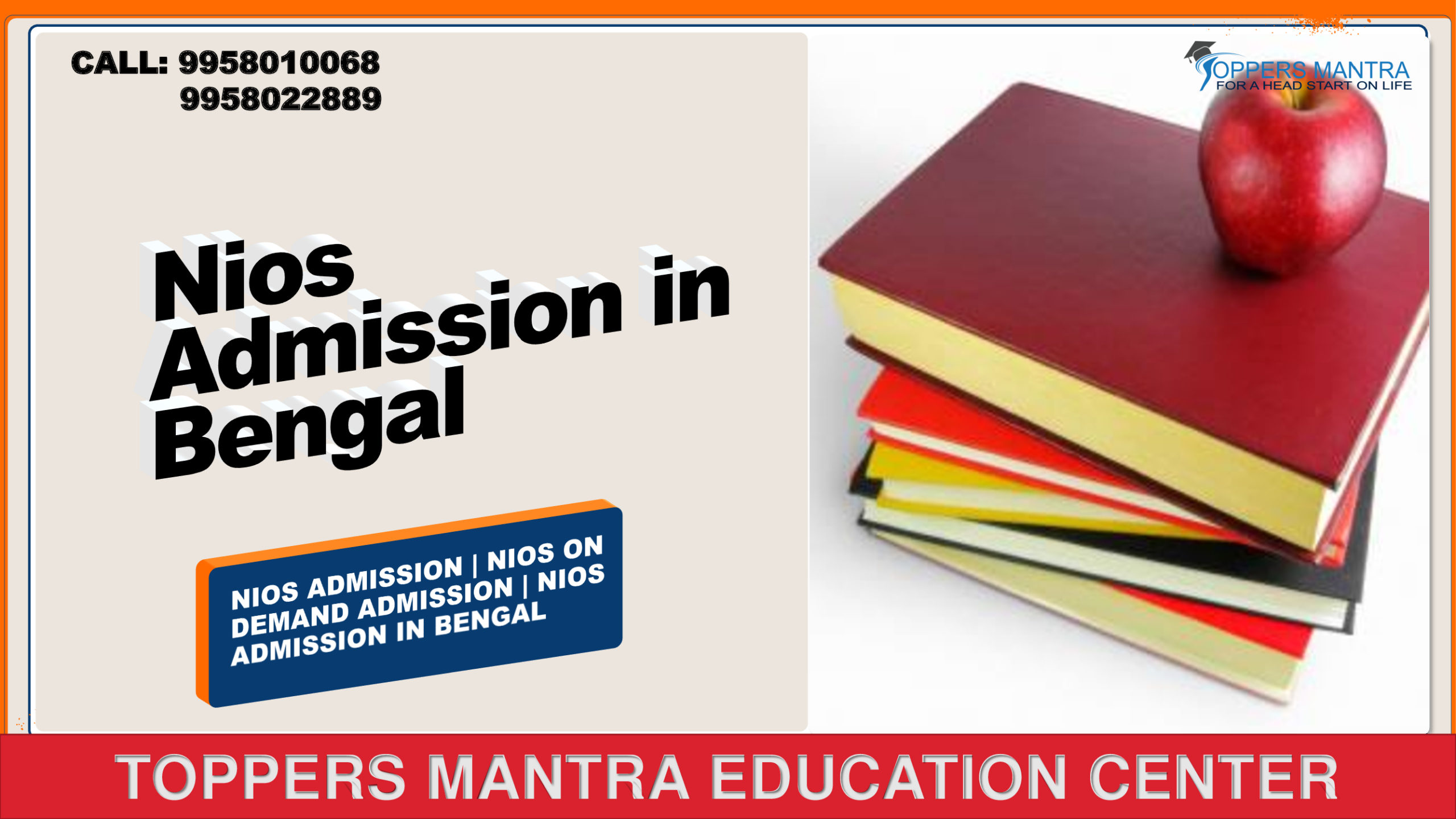 Nios Assignment and Practical:
Tutor Marked Assignment (TMA) is an important part of the Nios Examination. TMA is available in every subject. You have to make Assignment files which are provided by Toppers Mantra Education Center.
Assignment improves your percentage in the final result. In TMA you have to write 6 questions with the answers. Nios want to check your eligibility and capacity.
In Nios practical is mandatory if you have practical subjects. You have to prepare for practical's and give the practical examination at the time of the Nios Examination. For practical's you have to make a file in the mandatory practical subjects.
For the Nios Assignment (TMA) and Nios practical file preparation you can contact Toppers Mantra Education Center. We'll provide you with all the guidelines about the TMA and practical preparation online or offline.
For Nios Admission West Bengal you may call us or visit our official website www.toppersmantra.com and also E-mail us for your query.
Thanking You
Toppers Mantra Education Center